Purchase Hockey Books by Mike Cowan
In the new book It's a great day for hockey, read about the University of Wisconsin hockey program from its early years to its rise to prominence on the national scene. The other books feature Wisconsin hockey from the 1930s through the 1960s when the game was played outdoors.
It's a great day for hockey
This book is a tribute to the legendary Badger Coach Bob Johnson, NCAA Champion and Stanley Cup Champion, through stories told by his former players and compiled by Mike Cowan and Bob's son, Pete Johnson. Find out more about the inspirational Coach Bob Johnson, who built a great hockey program with innovation and enthusiasm. Fantastic read for Badger fans and any coach at any level or any sport!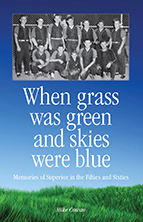 When Grass Was Green and Skies Were Blue
When Grass was Green and Skies were Blue is a chronicle of high school sports in Superior during the 1950s and 1960s. The blue-collar railroad and shipping hub featured intense rivalries among its three high schools. These competitions produced several championship teams and numerous athletes who went to excel at the collegiate and even professional levels.
Remembering the Madison Cardinals
Remembering the Madison Cardinals is a tribute to one of the premier senior amateur hockey teams of the 1930-1960s. When the University of Wisconsin dropped hockey in the 1930s, the Madison Cardinals filled the void. This team was instrumental in promoting hockey in Madison for over thirty years and prepared the path for the University to once again sponsor varsity hockey. Names like O'Brien, Riley, Walsvik and Suter are remembered in this tribute.
The Wausau Vets and the Early Days of Wausau Hockey
The Wausau Vets and the Early Days of Wausau Hockey recalls the heyday of hockey in this central Wisconsin lumber and paper mill town. Hockey began in Wausau in the 1920s and top competition throughout the Midwest squared off against the mostly home grown boys. A strong high school team with an impressive win streak provided a steady stream of players for the senior men's team.
SOLD OUT—The History of the Fondy Bears
The History of the Fondy Bears is the story of the senior amateur team located in Fond du Lac that has operated continuously for 82 years. The team won eleven state titles and placed second six times. They also finished second in the USA Hockey national tournament five times and finally in 2009 won the elusive national title. This book traces the humble beginnings of the team, starting in 1934 on outdoor ponds and ice rinks, to the building of the indoor arenas and the addition of artificial ice.